Co-Founder Jack Naito discusses beginning of Luna Technologies.
In an interview for MyCannabis, Luna's co-founder, Jack Naito, explained that the company aims to provide safe and efficient equipment to process fresh-frozen or cured biomass for cannabis processors. Before co-founding Luna Technologies in 2016, Naito worked as a Materials, Process, and Physics Engineer for aerospace giant Boeing. He obtained his degree in Economics and Business from Colorado College and his Master's degree in Mechanical Engineering from the University of Washington.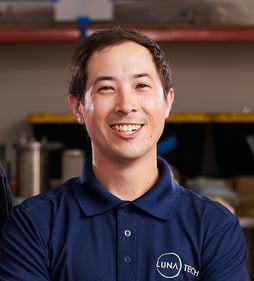 Naito stated that the lack of purpose-built extraction equipment for cannabis processors was due to the inherent hesitancy of large, established engineering firms to invest and develop cannabis extraction equipment due to the stigma associated with the product, and the fact that it remains illegal in the U.S. at the Federal level. He also mentioned that most manufacturers have difficulty finding the right balance of cannabis knowledge and process design expertise, which results in well-designed equipment that can't make the products consumers want, or equipment that can produce high-quality craft extracts but is difficult, costly, and unsafe to operate.
One of the biggest benefits of automating hydrocarbon extraction products is that it allows producers to create an innumerable array of BHO-based concentrates with Luna's proprietary recipe driven software. Luna's hydrocarbon extraction equipment also allows operators to compress cannabis biomass by up to 85 percent, which significantly reduces utility costs and the amount of storage required. However, Naito pointed out that BHO has a few extreme process conditions that are unique to hydrocarbon extraction of cannabis oil, such as cryogenic temperatures, volatile liquid solvents, and a very sticky product. These conditions make it difficult to source some of the measurement and control equipment necessary for automation. Just one of many challenges Luna faced while automating the BHO extraction process.